EASLEY — Ministry Alliance for Regaining Your Safety, better known as "MARY'S House," was selected as the recipient for the Pickens County Leadership class project of 2016.
Over $10,000 was needed to replace playground equipment at the emergency shelter for victims of domestic violence, a project so large in scope, some of the members of the board of directors were skeptical it could be done.
"When we first took on this class project and presented it to the board of directors, the Board of Regents for Leadership Pickens … I would say they were in shock," said Anna Connolley, one of the project leaders for the 2016 Leadership Pickens class. "They kind of looked at us and said, 'You know, we've had some challenges in the past raising that kind of money.' So we (the class) all just kind of looked at each other and said: 'Challenge accepted.' And we did it."
"We had a lot of corporate sponsorship from the community, in addition to that we had a lot of sweat equity into it," said Connolley. "Fifty-four cubic yards of mulch were used for the new equipment, which is huge. It's like three dump trucks."
Connelly said that Kristina Smith, director of MARY's House, had told her the story of one family who had left the shelter in January but that the little girl had asked if they could come back once the playground was finished.
"I think that says a lot about the excitement and the passion that we showed, even just working on the project itself," she said.
Sen. Larry Martin on behalf of the entire delegation expressed thanks to Leadership Pickens for their hard work in bringing the playground equipment to fruition.
"You're making this shelter an inviting place for babies and children to come and that is just such a blessing," Martin said. "We salute you."
A symbolic ribbon cutting was held at MARY'S House on Friday to unveil the new playground equipment that was supplied as the 2016 class project for Leadership Pickens.
Sara Trinkl, Tyler Morgan, Jonathan Hamby, Taylor Etcheson, Wallace Krebs, Anna Connolley, Austin Canfield, Billy Crawford, Charlie Phelps, Will Grant, Leanne Alewine, and Suzanne Bixby of Leadership Pickens Class of 2016 can finally take a breather after all of their hard work in replacing the playground equipment at MARY's House.
Reach Kasie Strickland at 864-855-0355.
---
8:48 pm |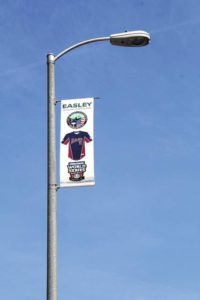 12:05 pm |
12:05 pm |
comments powered by

Disqus