PICKENS — Something can be said about small town charm: families strolling down Main Street, grabbing an ice cream cone, meeting up with old friends and checking out some classic cars.
This was the scene on Saturday in historic downtown Pickens.
"Look at that one Mommy. I bet it can go really fast!" said one little boy pointing out a particularly shiny classic Corvette.
"You going to drive a car like this someday?" the owner asked.
The boy eagerly nodded.
"That's how it all starts," said Thom "Smithy" Peters, who was there from North Carolina with his 1957 "Tri-Five" Chevy. "I was about his age when my Grandpa started taking me to car shows and drive-ins. It was all over from there, I was hooked. Been messing around with cars ever since."
When asked if his car was all original, Peters laughed.
"No, it's been rebuilt probably a few times. Now, when I bought it from this fellow over in Asheville a few years ago, he said it had been in his family for a long time, but I don't think they were the original owners. This car's got a history — I just don't know all of it. But she's pretty — (he drops his voice to a whisper) — and the wife likes it."
Peters warned that while car restoration is a fun hobby, it can very easily turn into an expensive one.
"It's not too bad with me because I do a lot of the work myself, but if you don't know what you're doing under the hood of a car, you're going to run that price tag up right quick," he said. "Parts get pricey too, especially original ones."
But the evening out in Pickens wasn't all about the cars,.
Down in the amphitheater, visitors were treated to some top notch bluegrass music courtesy of The Sweet Potato Pie Kids as part of Pickens' outdoor summer music series.
If you missed last Saturday's fun, there's still three more dates left for music shows in downtown: Second Time Around Band will play on Aug. 13, Shawn James Band will take the stage on Aug. 20 and The Hired Help will close out the season on Aug. 27.
All events run from 7 p.m. to 10 p.m. and are free.
Harold Chastain from Pickens brought his daughter Amy Moore and the grandkids who were visiting from Atlanta down to the cruise-in on Saturday night.
Antique, classic and tricked out rides lined the streets of downtown Pickens on Saturday and locals wandered up and down checking out the cars before heading down to the amphitheater to hear some bluegrass music.
Reach Kasie Strickland at 864-855-0355.
---
8:48 pm |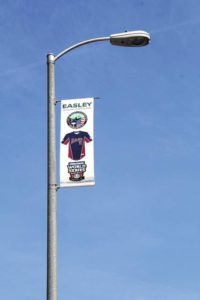 12:05 pm |
12:05 pm |
comments powered by

Disqus