NEWBERRY COUNTY — Some authors know from a young age that writing is their calling while others take a winding road to get there.
The latter is definitely the case for Priscilla Shuler, a resident of Chappells who has taken on many roles in her life, a list to which she can now add published author.
Her two books, Daddy Jack's Place and Two Can Play, were both published in December and can be found on Amazon.
"I don't know if it's because I was so depressed and held in as a child and now it's busting loose, I don't know. I just know I love to write," said Shuler, 83.
Among her favorite novelists are John Grisham, Nicholas Sparks and Jan Karon whose works attract her based on their truth and readability, she said.
Although Shuler did not take up writing until more recently, she said the desire to write has always been inside her.
Born Priscilla Brannon in 1932 in Whitmire, Shuler's upbringing was troubled.
"I was suppressed, I was not allowed to play with other children," Shuler said. "He wouldn't allow my hair to be cut. I was almost prohibited from growing up.
"When I was a child, I was not encouraged at all in any direction except when I was a baby," Shuler said. "I guess my father saw something in me and he would go grocery shopping and bring home the groceries in a box and give me crayons and a pencil and I'd sit inside the box and draw all kinds of things. I guess it was a way for him to keep me out of trouble."
For a reason unknown to her, she was not encouraged artistically beyond that point.
"I do believe now that my father was bipolar because he was such a disciplinarian and had a huge idiocy in his raising of me," Shuler said.
And although growing up she did fairly well scholastically, she would not go on to pursue a secondary education.
"A lot of the things I learned I learned by sitting somewhere and listening. I listened all the time and it fed something within me," Shuler said. "I do believe that alone has given me a basis for observance and cataloging and putting things away for future use."
Though she was unaware at the time, these traits were already nurturing skills useful in writing.
As soon as she turned 18, Shuler ran away from home to live with her best friend Joni in Columbia and it was there she met her husband, Bill, whom she has been with for 65 years.
"Mr. Shuler, God bless him, he was my savior," Shuler said.
The pair met one evening on which Shuler happened to have two dates and was unsure which suitor she would go with.
Shuler said she told Joni: "I tell you what I'll do. The first boy that gets to the door I'll go with."
The other man, not her husband, was first to arrive but Shuler said she felt God tell her not to go. She informed the man she had other plans and he was apparently put out as he had driven from Saluda. He was last seen peeling out with tires screeching off into the distance.
When the next man arrived at the door, God once more spoke to her, this time saying that this was the man she would marry.
"With God as my judge that occurred," Shuler said.
The two were smitten and married three months later.
Not long after, Bill graduated from Clemson University with a degree in Agricultural Engineering and worked for Becker Sand and Gravel until he was called up for military service the following year.
Their first son Bill was six months old when Bill Sr. was sent to Korea and 22 months old when he returned.
The U.S. Army Ordinance Corps then relocated the Shulers to France.
"We were at the furthest outpost in France, it was a military ammunition depot near the Spanish border," Shuler said.
Living abroad gave her the opportunity to appreciate another culture.
"We learned to speak the language fluently, it was wonderful," said Shuler, who would have more children while there.
Several years later, while the family was stationed in Germany, Shuler's artistic talents became more realized when she began taken painting lessons from a man named Joakim Ludwig whom she would study under for four years.
"Ludwig was a good artist and a good instructor. I really got into painting there in Germany," she said.
Portraits were her forte, she said, and she even gave lessons of her own to the wives of officers.
Over the 25 years Bill was in the Army, the family lived in many places and Shuler took to writing letters to family members back home.
"I began to realize that I did have a penchant for writing," she said.
After Bill retired from the military, he and Shuler worked a bevy of jobs over the next couple of decades ranging from home repair to running a general store.
Shuler's artistic sensibilities were stirred again when she attended a craft fair in Greenville where she became quite fond of porcelain dolls and soon began making them herself.
Shuler and Bill, who produced works of wood, traveled the craft show circuit selling heir wares.
"We didn't make much money but we had a good time," Shuler said.
When she found she had a desire to try her hand at writing, she signed up for some formal training.
The course she had enlisted in was, however, geared toward short format prose and what Shuler really wanted to write was novels.
As soon as she finished the course, she fleshed out her ideas and expanded them into two complete novels.
Daddy Jack's Place draws on memories from her own life while Two Can Play arose out of her imagination.
She said she has not thought much about how it feels to be a published author, instead choosing to focus on her next novel.
The book is called Rat and is perhaps just one of many more still to come.
Chappells resident Priscilla Shuler, who is pictured with her husband Bill, has published two novels to date with a third in the works.
Reach Carson Lambert at 803-276-0625, ext. 1868, or on Twitter @TheNBOnews.
---
8:48 pm |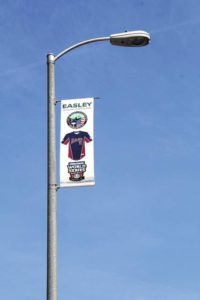 12:05 pm |
12:05 pm |
comments powered by

Disqus